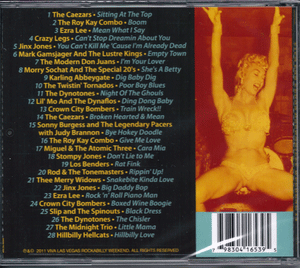 1. The Caezars "Sitting At The Top
2. The Roy Kay Combo "Boom"
3. Ezra Lee "Mean What I Say"
4. Crazy Legs "Can't Stop Dreamin' About You"
5. Jinx Jones "You Can't Kill Me 'Cause I'm Already Dead"
6. Mark Gamsjager & The Lustre Kings "Empty Town"
7. The Modern Don Juans "I'm Your Lover"
8. Morry Sochat & The Special 20's "She's A Betty"
9. Karling Abbeygate "Dig Baby Dig"
10. The Twistin' Tornados "Poor Boy Blues"
11. The Dynotones "Night Of The Ghouls"
12. Lil' Mo & The Dynaflows "Ding Dong Baby"
13. Crown City Bombers "Train Wreck!!"
14. The Caezars "Broken Hearted & Mean"
15. Sonny Burgess & The Legendary Pacers w/Judy Brannon "Bye Hokey Doodle"
16. The Roy Kay Combo "Give Me Love"
17. Miguel & The Atomic Three "Cara Mia"
18. Stompy Jones "Don't Lie To Me"
19. Los Benders "Rat Fink"
20. Rod & The Tonemasters "Rippin' It Up!"
21. Thee Merry Widows "Snakebite Kinda Love"
22. Jinx Jones "Big Daddy Bop"
23. Ezra Lee "Rock 'n' Roll Piano Man"
24. Crown City Bombers "Boxed Wine Boogie"
25. Slip & The Spinouts "Black Dress"
26. The Dynotones "The Chisler"
27. The Midnight Trio "Little Mama"
28. Hillbilly Hellcats "Hillbilly Love"